Preview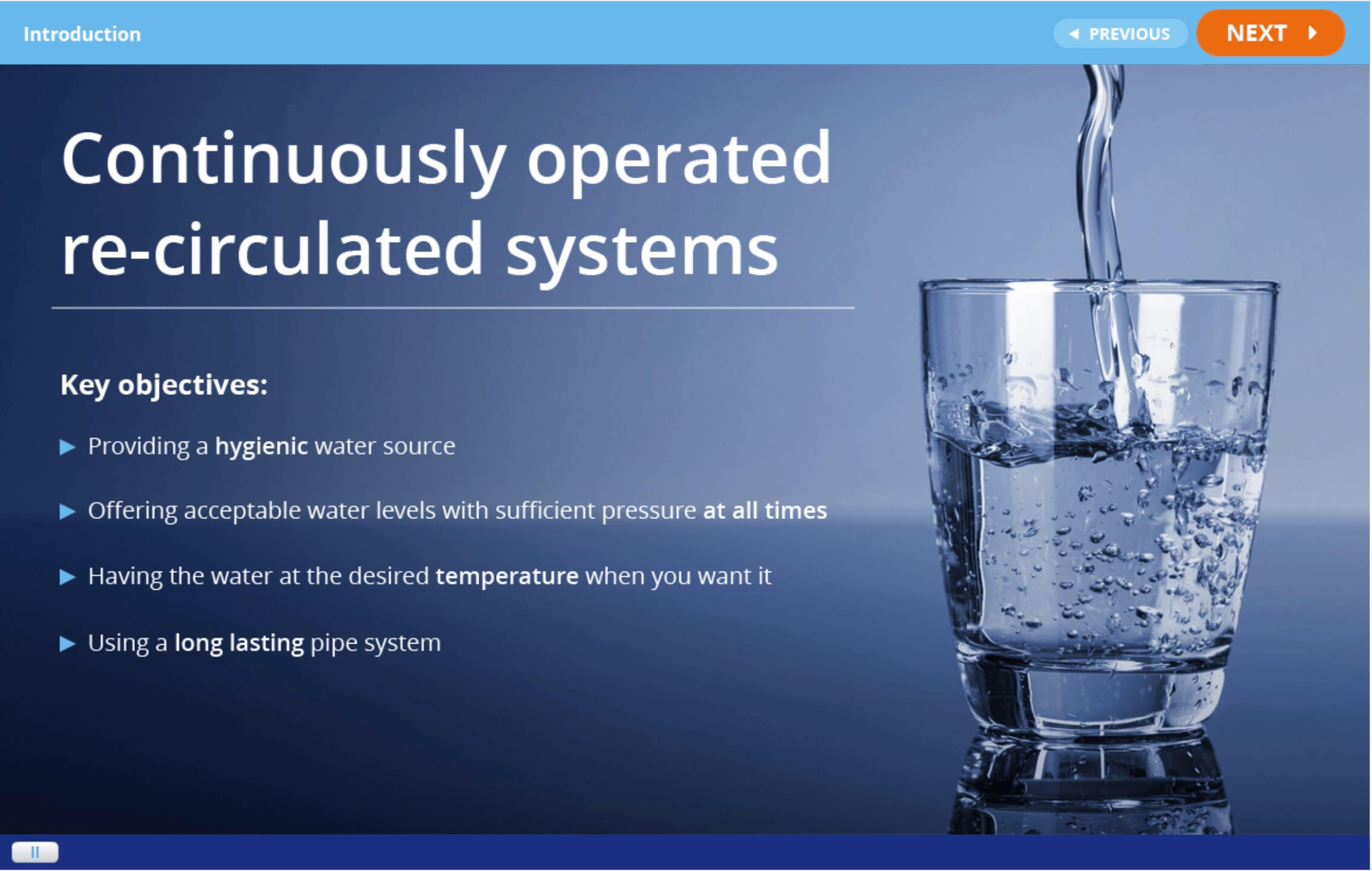 Introduction
This beginner level course will provide installers with an understanding of how to install a continuously operated re-circulated system including minimising the risk of Legionnaires disease, optimising the performance of the system and the key benefits of the Tigris K1 system.
Chapters:
Chapter 1 - Introduction to the Installation of a continuously operated re-circulated system
This chapter explains the lifetime of the piping system and how it can be installed in a way that minimises the risk of legionnaires disease, a severe form of pneumonia caused by Legionellla bacteria that can live in water.
Chapter 2 - Benefits of a continuously operated re-circulated system
This discussed how you can ensure the quality of drinking water and the impacts of disinfection on a system.
Chapter 3 - Wavin Lifetime assessment tool
The Wavin Lifetime assessment tool is a handy online resource that can be used to determine the potential lifetime of a proposed piping system, considering a range of expected operating conditions. This chapter explains how the tool works and how it can be used with examples of how changing temperature and chlorine effect the performance of the Tigris K1 system.
Chapter 4 – Wavin Tigris K1
Wavin's Tigris K1 system is a multilayer, press-fit system for potable water, sanitary and heating applications in high rise residential, healthcare and large scale industrial and commercial builds. This chapter discusses the key advantages of this system and highlights its components and key features.
Chapter 5 - Wavin support
Wavin offers a range of support including specification support, technical support and online support. This chapter highlights how to assess all of this support.
Tigris K1 – assessment
This training courses finishes with a short assessment which allows you to check your understanding of the training material.